The Greenwich Association of REALTORS® has a long and rich history in the Greenwich community. Take a trip down memory lane!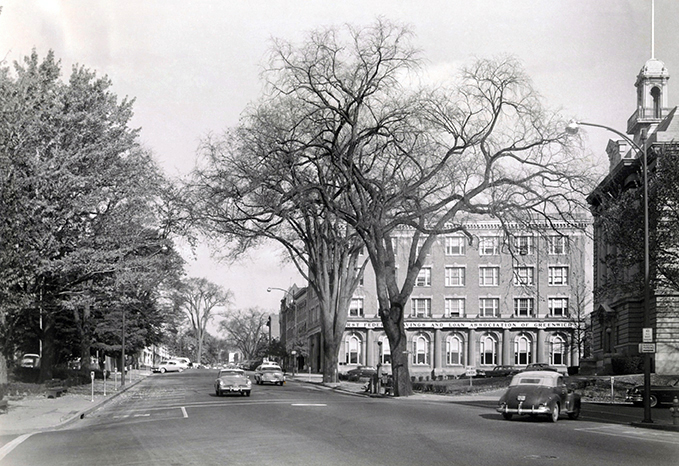 Once upon a time, Greenwich was a quiet village. Greenwich Avenue was a broad expanse that allowed two-way vehicle traffic and didn't have a single stoplight. Some things stay the same: We still don't have stoplights. But some things, of course, do change. Join us as we take you on a tour of the history of the Greenwich Association of REALTORS®.
---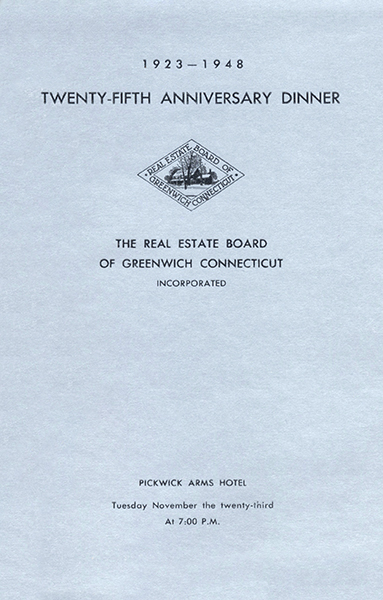 In 1948, the Association celebrated its 25th anniversary with a swanky event at the Pickwick Arms Hotel. The hotel no longer exists – but, perhaps fittingly, the building is currently the home to Sotheby's International Realty.
---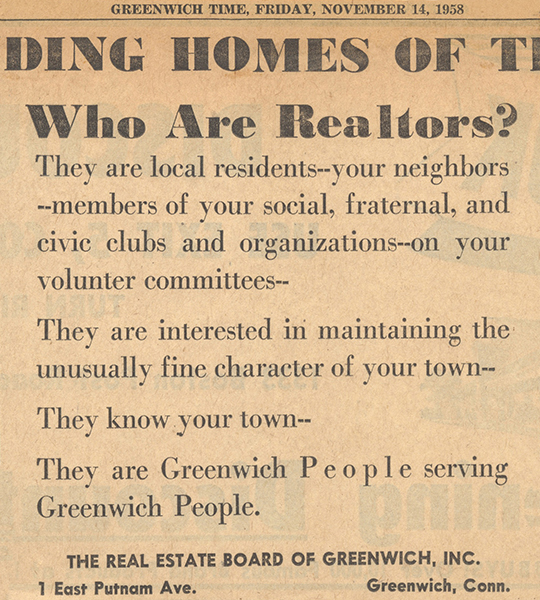 Who are REALTORS®? It was the same then as it is now – they are us! Our Realtors are deeply embedded in the fabric of our community and care deeply about its residents (and would-be residents). Nearly 60 years later, we're still Greenwich people serving Greenwich people.
---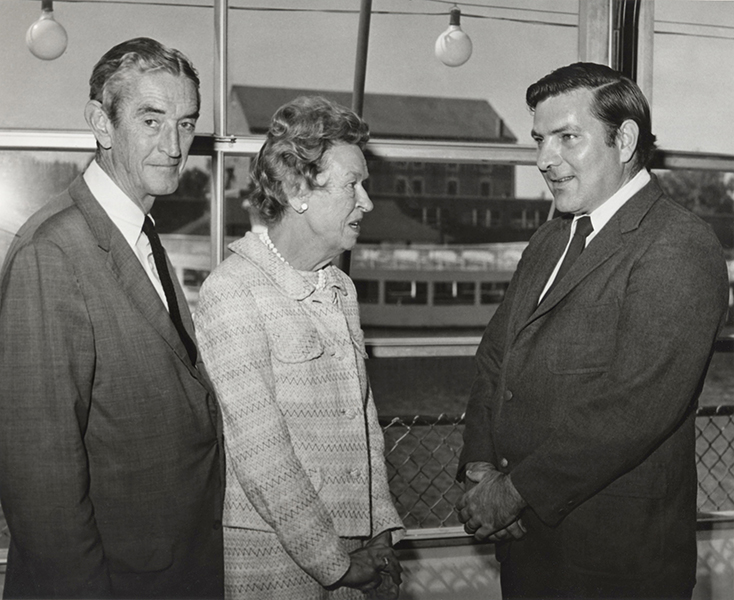 GAR members have a long tradition of collaborating closely with town government and community leaders. In this 1970 photo, past GAR president John "Jack" Carrott (left) meets with Elizabeth Williams, GAR chair of board meetings, and Director of Parks and Recreation Francis H. Keegan.
---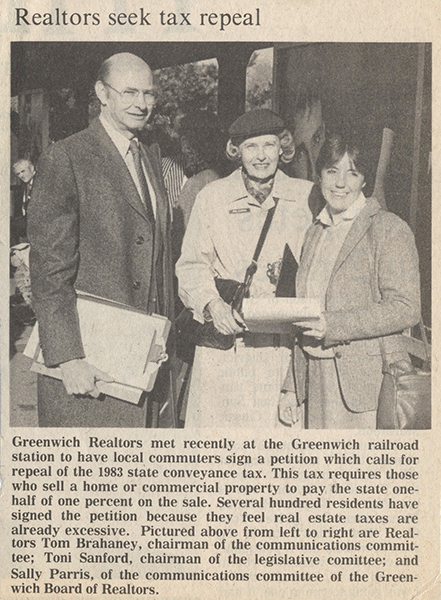 The advocacy efforts of GAR have long benefited the residents of Greenwich in numerous ways, as we are committed to supporting consumer protection and benefits in matters that affect real estate.
---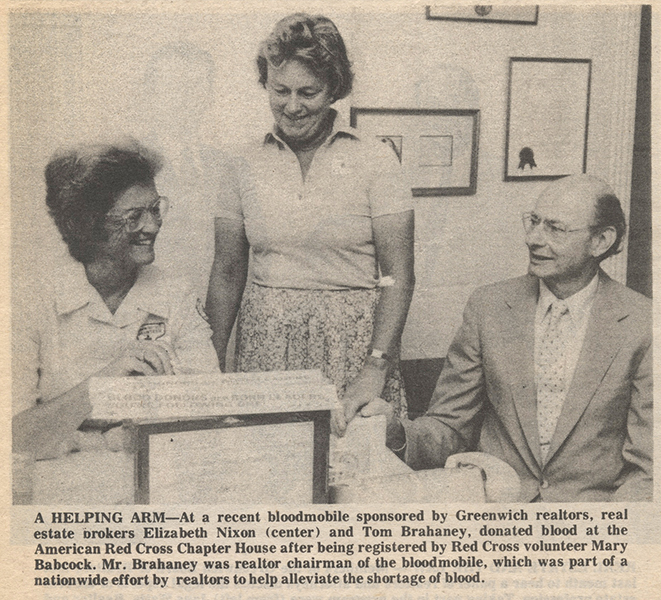 Giving back to the community has always been a priority for GAR and its Realtors, who are quick to pitch in when there's a need. The National Association of REALTORS® is also active in social issues; this 1986 blood drive was part of a countrywide campaign to battle blood shortages.
---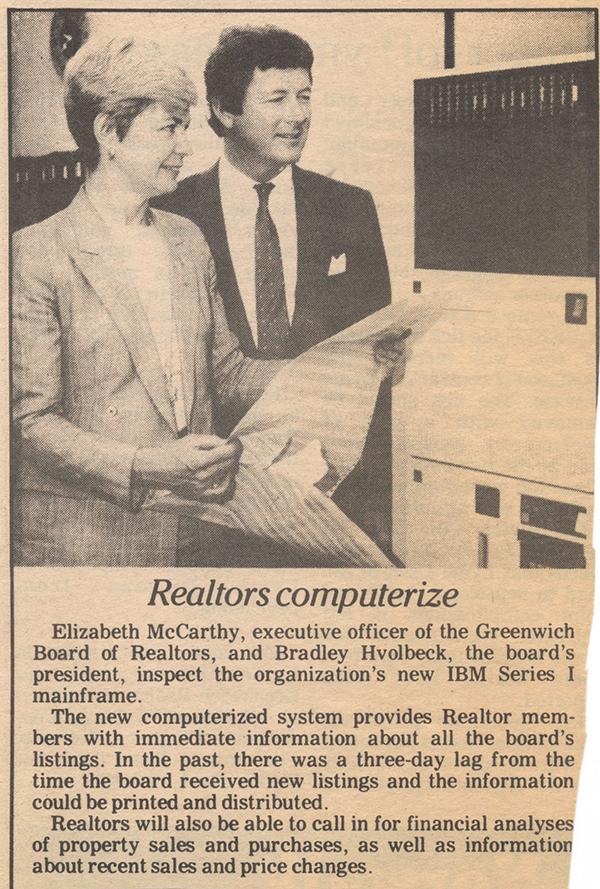 We've always embraced technology that advances the real estate industry, as this 1985 newspaper story shows. Today, the computing power represented by this IBM mainframe rests in our pocket, but the end result is the same: making it easier for Realtors to serve their clients.
The Greenwich Association of REALTORS® – then known as the Real Estate Board of Greenwich – was founded in 1924. That year, the Gershwins and Irving Berlin dominated the music scene, the first round-the-world flight was completed, and Ellis Island closed.
---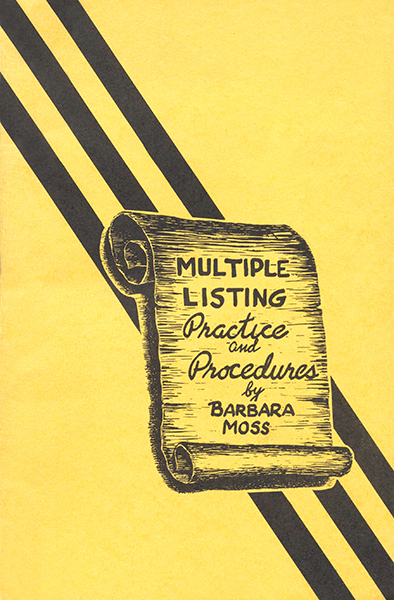 In 1950, the National Association of REALTORS® developed the Multiple Listing Service and provided this guidebook for local associations. Greenwich adopted the MLS in 1954 and has been a strong proponent ever since.
---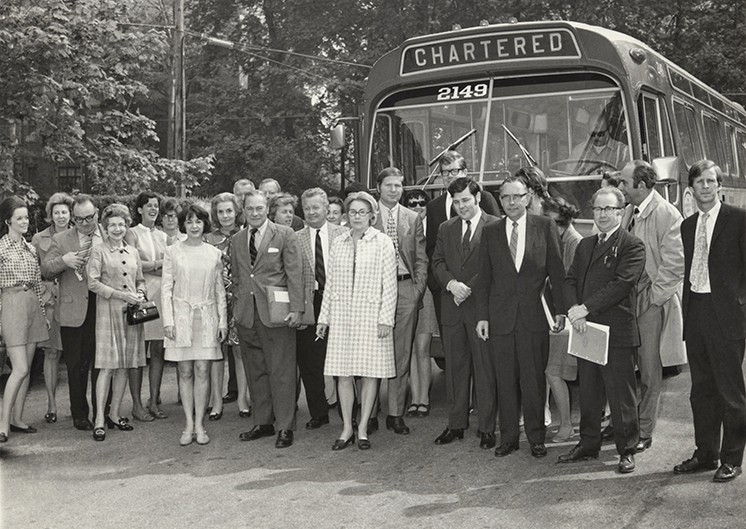 In the 1970s, every class of newly minted Realtors got a crash course on Greenwich via a private bus tour. We still demand local expertise from new Realtors today – they're required to pass a quiz about all aspects of Greenwich and take part in an attorney-led walk-through of Town Hall, where they learn all the nuances of Greenwich real-estate transactions.
---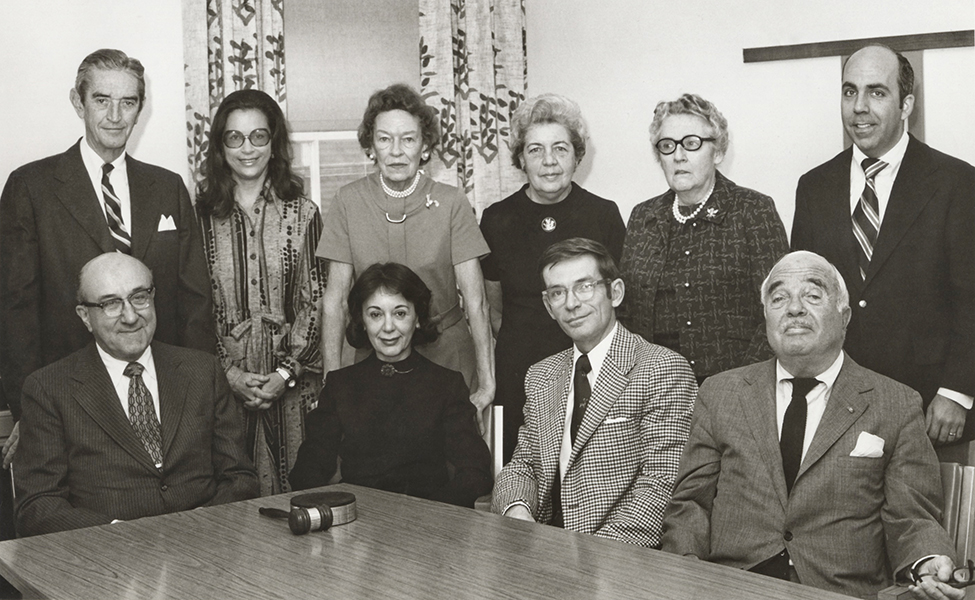 The Greenwich Association of REALTORS® has always enjoyed a strong leadership team. The 1973 Board of Directors included Jean Crocco (standing, second from left), who remains a Board member today. And the wooden gavel in the picture is still used to call meetings to order.
---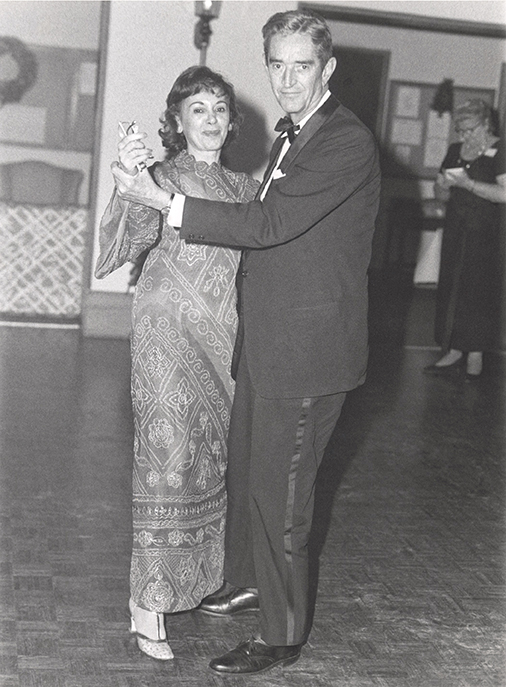 Past GAR president Jack Carrott cuts a rug with Realtor Dot Wood at one of GAR's Black Tie functions. Jack & Dot owned a brokerage firm together, Carrott & Wood Realty that opened in 1984.
---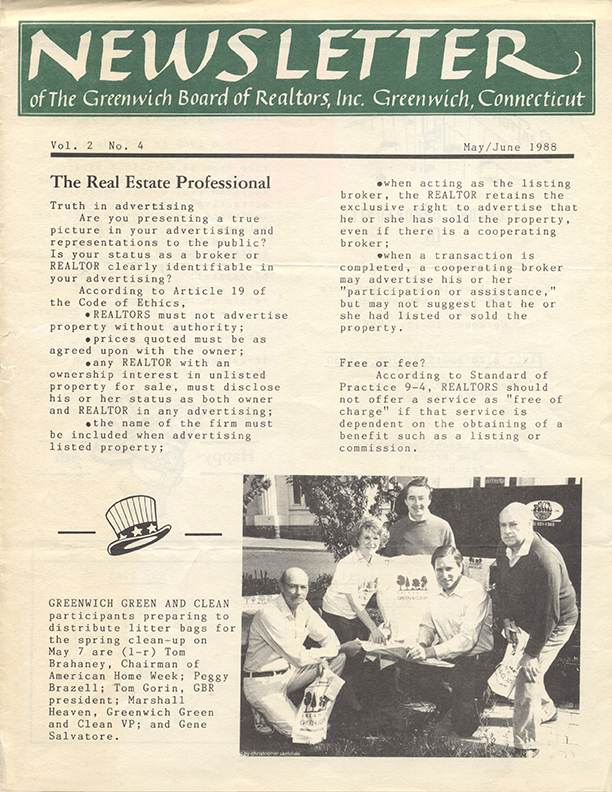 One of GAR's core tenets is a commitment to keeping its members informed. This 1988 newsletter has now evolved into our weekly "Green Sheet," a well-read and respected update that's distributed to Realtors every Friday.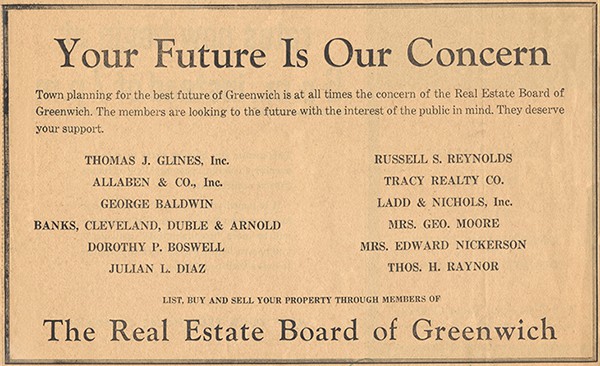 From the very beginning, we were deeply invested in Greenwich's success. This 1944 advertisement reflects our commitment to town planning for a strong future.
---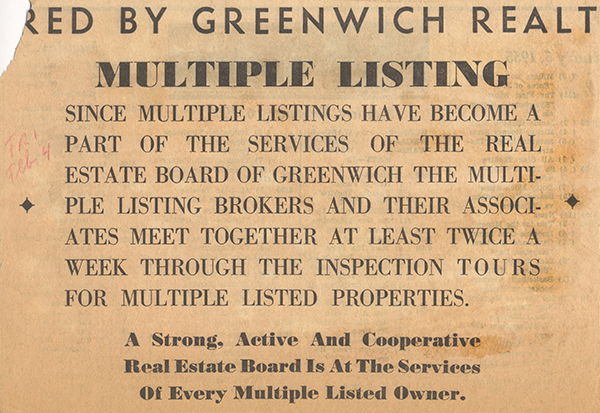 In 1955, agents stayed up to speed on MLS properties with twice-weekly inspection tours. We continue the inspection tradition to this day, ensuring our Realtors know all the ins and outs of the listed properties.
---

In 1962, the designation REALTOR® inspired trust and served to indicate a real estate professional committed to ethics, excellence, and service. And today? It still does.
---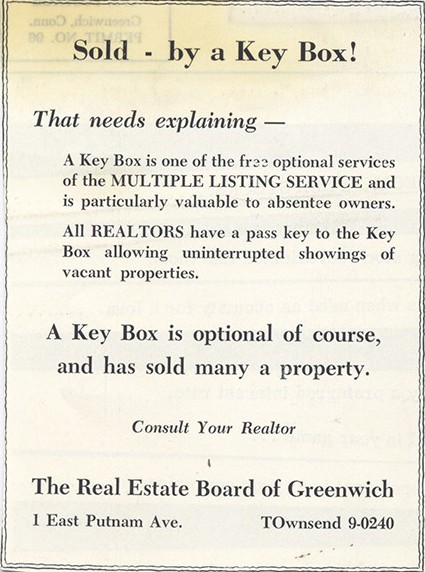 It's hard to believe, but today's ubiquitous key boxes didn't come into use in Greenwich until 1963. Of course, today's boxes are a little more advanced: we'll bet that 1963 Realtors never imagined opening a key box with an iPhone.
---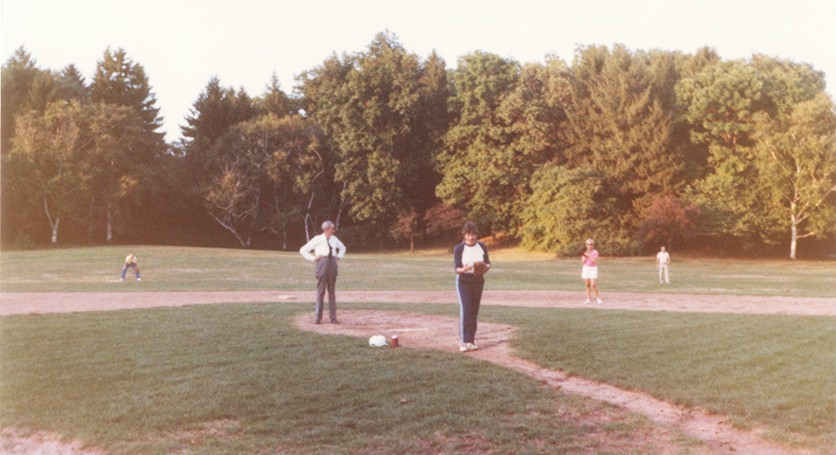 Our Realtors work hard… but they also play hard! GAR hosts many fun events and mixers, such as this 1982 baseball game that featured GAR president Jack Carrott as the umpire, that allow members to mingle, network, and just have a good time.
---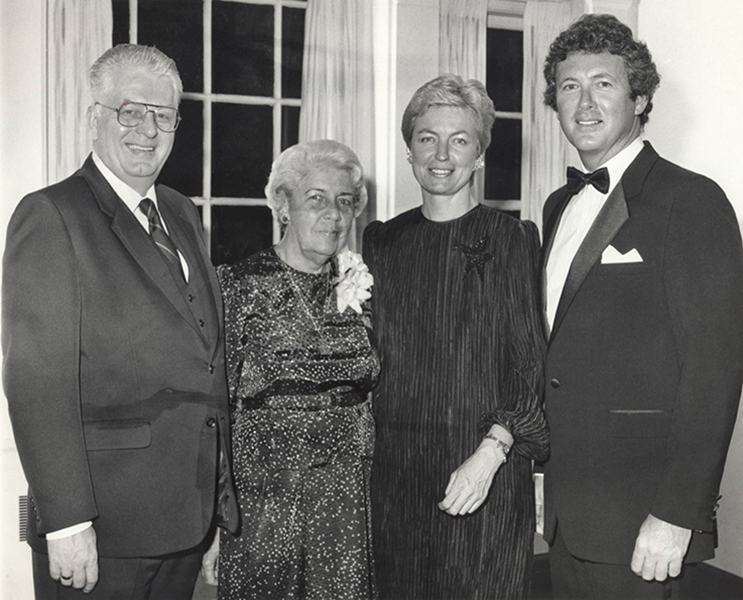 GAR's leadership enjoys longevity in the role. This 1983 photo features Sophie Williams (second from left) celebrating her retirement as the executive director of GAR after more than 40 years of service. By her side is Elizabeth McCarthy, the newly appointed executive director, along with Brad Hvolbeck (far right), who served on the GAR Board of Directors for 30 years.
---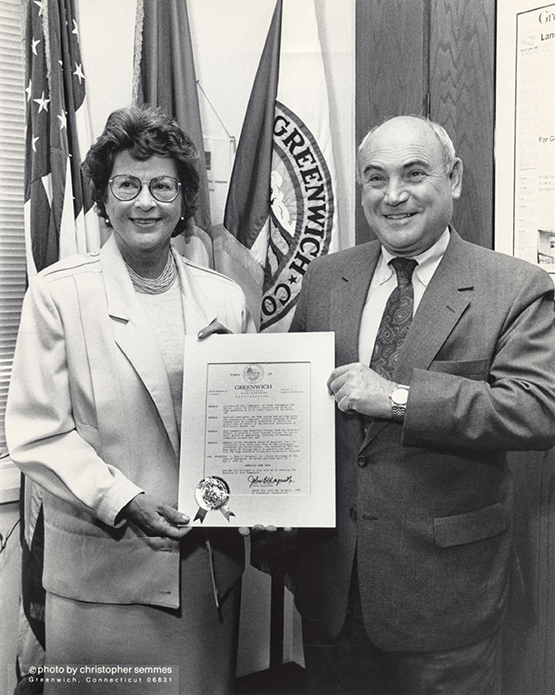 The real estate market has its peaks and valleys, but the spring of 1989 was red-hot… so hot that the town of Greenwich declared an official Real Estate Week in April that year.
---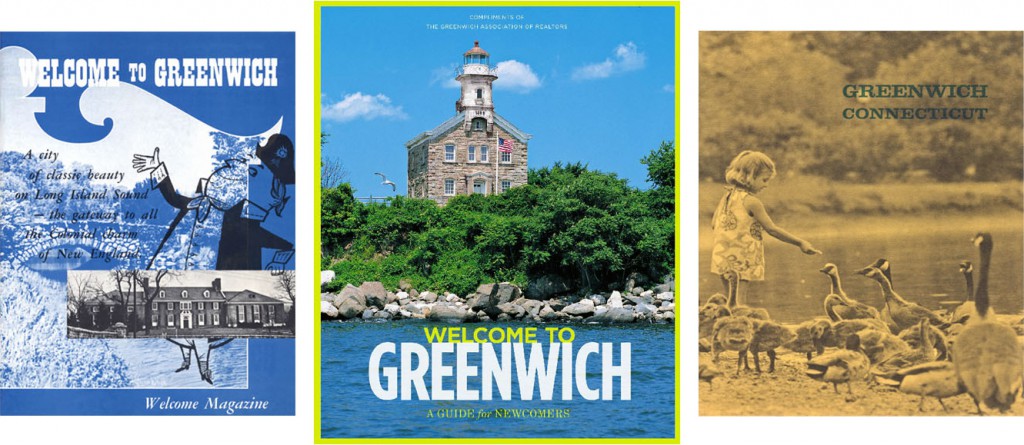 In the '50s, the Greenwich Chamber of Commerce produced a "Welcome to Greenwich" magazine to encourage and orient newcomers. GAR stepped in to carry that tradition into the twenty-first century – and now produces the guide for online consumption.