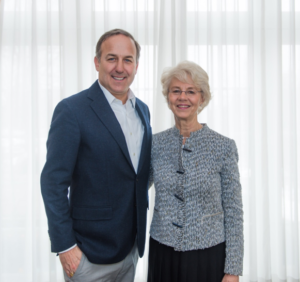 January 18, 2019 (Greenwich, CT) — The Greenwich Association of REALTORS®(GAR) announced that BK (Marie) Bates of Houlihan Lawrence is GAR's REALTOR® of the Year for 2018.
BK served as President of the Greenwich Association of REALTORS® from 2017-2018 and has been a Director on the board since 2015. She has also been actively involved in the Professional Standards, MLS, and Grievance Committees since 1998.
Bates is a strong contributor to the education and mentoring of real estate professionals in the Greenwich community. She serves as an incredible resource to her colleagues and the Greenwich community as a whole. Bate's passion and willingness to contribute is contagious, and has inspired and encouraged many members to get involved.
Bates has been a REALTOR® for over 40 years. Her tenure has included time with the former Brad Hvolbeck & Associates, Sally O'Brien & Associates, and Sotheby's. Recognized as a strong leader within the Houlihan Lawrence office, she is eager to assist new agents with any questions they might have and to help with listing presentations.
In addition to her professionalcommitments, Bates contributes to the community at large with service in several organizations includingserving on the Greenwich Academy Alumni Board, running various committees at Greenwich Country Club and Belle Haven Club, where Bates became the first female fleet captain, and was instrumental in starting the women's sailing program at Belle Haven. BK also ran the town wide Pet Show for over 25 years, following in her Grandmother's footsteps. BK has three children and two grandchildren, who have or are going through the public and private schools in Greenwich. In her spare time, you can find BK playing bridge, or boating on Long Island Sound.
The REALTOR® of the Year Award is the highest honor presented to a member and is based upon leadership and contributions made to the Greenwich Association of REALTORS®, the Connecticut Association of REALTORS®, National Association of REALTORS®, and the Greenwich community.Bates was presented with the award by David Haffenreffer, Head Broker for Houlihan Lawrence, at the 95thAnnual GAR Meeting.
"When I think of BK Bates, the words that come to mind are right out of our company core values: Integrity, Excellence, Passion, and Community. It's been a gift to work alongside BK (and John, John, and Amanda) for the last 5+ years at Houlihan Lawrence. She's helped us be a better brokerage, and is truly committed to our Association of REALTORS® as she wraps up a successful term as President," stated Haffenreffer.
The Greenwich Association of REALTORS® is the professional board of choice for the real estate industry in Greenwich. Established in 1924, the association provides professional development and services for REALTORS® and represents the concerns and interests of private property and home ownership rights. The association has over 800 members and is headquartered in Greenwich, CT.